Staff
Camp Staff





Colin Carmichael
Carmichael has been a part of the Oklahoma State program since its inception in 1996. In 12 seasons as the Cowgirls' head coach, he has helped establish the program as one of the nation's elite. OSU is a perennial NCAA Tournament team, has been a fixture in the national rankings and has won nearly 70 percent of its games during Carmichael's tenure.
In 12 seasons has led OSU to 164-70-34 record, a winning percentage of .675
Four Big 12 Conference championships - 2008, 2009, 2010, 2011
9 NCAA Women's Soccer Championship appearances - 2006-2011, 2013-14, 2016
Back-to-back NCAA Tournament Elite Eight appearances - 2010-2011
In 2010 & 2011 the Cowgirls ended the season ranked No. 5 nationally
Four-time Big 12 Coach of the Year - 2006, 2008, 2010, 2011
Three-time Central Region Coach of the Year - 2006, 2008, 2010
Has coached three All-Americans as well as two Big 12 Offensive Players of the Year and a two-time Big 12 Defensive Player of the Year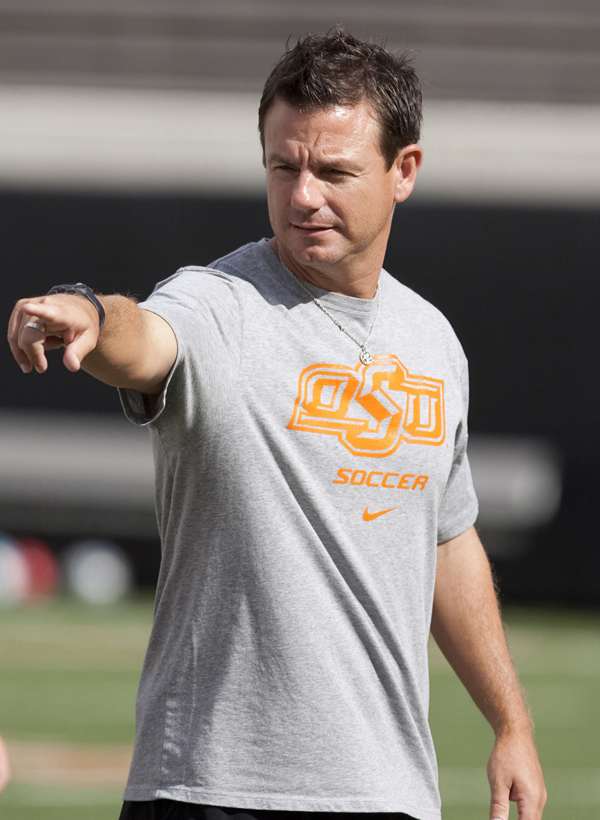 Justin Elkington
Elkington has spent the last eight seasons as an assistant coach for the Cowgirls, helping lead the squad to three Big 12 titles and two Elite Eight appearances in the NCAA Tournament. He was named the 2011 NSCAA Women's College Assistant Coach of the Year for the Midwest Region after helping the Cowgirls to a record 22-2-2 season.
Prior to being named to the OSU staff, Elkington spent more than decade as the Director of Coaching with Hurricane Futball Club in Tulsa. He was named the 2008 Youth GIrls Soccer Coach of the Year by the Oklahoma Soccer Association. A former professional soccer player, Elkington holds a United States Soccer Federation "A" License.
Ben Williams
Williams joined the OSU coaching staff as a volunteer assistant in 2015.
A graduate of Oklahoma Wesleyan, Williams was an all-conference performer for the Eagles and also competed in the USL Premier Development League.
Mallory Fowlkes
Fowlkes is the Cowgirl Soccer Strength & Conditioning Coach and is responsible for planning and implementing the annual training of the soccer team (as well as the Cowgirl softball team).
Other Camp Coaches
AD Franch - NWSL star, member of the U.S. Women's National Team, former OSU All-American
Melinda Mercado - Former Oklahoma State All-American and NWSL player
Yolanda Thomas - Former Oklahoma State All-American and current University of Tulsa assistant coach
Mike Cook - Head Coach, University of Central Oklahoma
Randall Robison - Head Coach, Oklahoma Christian University
John Rhein - Director of Coaching, Hurricane Futbol Club
Stephen Phillips - Co-Director of Coaching, Oklahoma Football Club
Amel Muhamedagic - Assistant Coach, University of Central Oklahoma
Tony McCall - Head Men's Coach, Regis University
Ashlyn Brantley - Head Coach, North Platte High School
Dane Straight - Head Coach, Cowley College
Tommy Riley - Head Coach, St. Gregory's University
Dave Cosby - Head Coach, Broken Arrow High School
Kyle Cussen - Head Coach, University of Tulsa
Richard Beattie - Academy Director, TSC Hurricane Soccer Club

Stephen Small - UEFA PRO License Coach from Northern Ireland

Aaron Brueckner - Head Coach, University of the Ozarks

Craig Liddell - Head Coach, NW Oklahoma State

Scott Parkinson - Head Coach, Rogers State

Dustin Stein - Head Coach, Eastfield College

Jamie Hutchison - Head Coach, Arkansas-Pine Bluff

Roberto Beall - Soccer Legend
AD Franch
Franch was a three-time All-American and four-time All-Big 12 Conference First Team goalkeeper for the Cowgirls who racked up a school-record 38 shutouts during her OSU career. She's now a member of the NWSL's Portland Thorns and also part of the U.S. Women's National Team pool.